| | | |
| --- | --- | --- |
| | | |
| | Alembic Books | |
A Book Dunked Into Some Tea

Paul Ramsay
•
notes on the first edition
The sequel to 'A Book Thrown Into The Sea' (1991), namely: 'A BOOK DUNKED INTO SOME TEA' was suggested by and co-authored with my friend Katie Buckley in the same year. An edition of 15 was made and assembled, with all books signed by Katie and myself as participants in the event. All of the books were steeped together but in different orientations.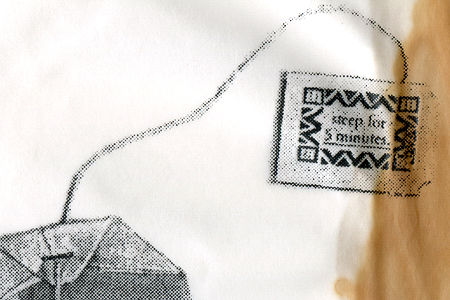 The back of the book gave the classification of this work as 'Painting'.
As with the Sea Book, these books were then added to the Alembic canon and sold; a few remain in my possession as examples of the second Alembic thrown text.
A second edition of the above title is currently being planned for release in 2016/17
﹏﹏﹏
ISBN 1-873396-08-2
Thrown Texts Series 002